For the duration of the Covid-19 pandemic this new Committee will organise all events, some by Zoom and some in person and the individual sub-committees, except Membership Support, will be suspended.
---
2021
Resolution Shortlist Meetings
Monday 22nd November 2021 Zoom
2.00 pm to 4.00 pm or 7.00 pm to 9.00 pm
There are five resolutions on the Shortlist and this will be your opportunity to hear more about them to aid your decision on which you would like to be taken forward to the Annual Meeting in June 2022. The Advisers will introduce the resolutions and share the PowerPoint presentations allowing time for discussion and questions. See the Resolutions page for more information and resources.
The shortlisted resolutions are:
Appropriate Sentencing of Non-Violent Women Offenders
Equality in Law for the Menopause
Fit for Purpose – Fit for Girls
Tackling Digital Exclusion
Women and Girls with ASD and ADHD Under-Identified, Under-Diagnosed and Under-Supported
There is no charge to WI members for these sessions.
Please register using the Eventbrite link individual to each session.
2.00 pm to 4.00 pm
https://www.eventbrite.co.uk/e/wi-shortlisted-resolutions-2122-workshop-tickets-207151083467

7.00 pm to 9.00 pm
https://www.eventbrite.co.uk/e/wi-shortlisted-resolutions-2122-workshop-7pm-tickets-207187592667
Divine Chocolate Talk, Recipe Demonstration and Tasting
Thursday, November 25th, 7.30pm - 9.30pm via Zoom.
Join WSFWI as Erik Houlihan-Jong talks about the Divine ethos, demonstrating a recipe for truffles using Divine chocolate, great Christmas treats, and a chocolate using all your senses. You will receive a box of standard and taster bars through the post, save them for the tasting on the night.
Tickets £12 for WI members and £14 for non-WI members
Eventbrite: https://www.eventbrite.co.uk/x/divine-chocolate-tasting-workshop-tickets-167309099019
Craft Competition, Cream Tea and "Faberdashery " Sale
Ashington Village Hall, Tuesday, November 30th, 2-4pm
Come and join WSFWI for a cream tea and view the entries to the County Craft Competition and see the prize awarded to the winning entry. Browse the craft donation stalls - a mini version of Denman's famous 'Faberdashery'.
Tickets £5
Eventbrite: https://www.eventbrite.co.uk/e/wsfwi-county-craft-cream-tea-and-faberdashery-tickets-175619120517
2022
"How Nature Can Turn Problems into Solutions"
Monday 17th January 2022 , 7.00 - 8.30 pm Zoom
Nicola Peel, Environmentalist and Solutionist, is an acclaimed international speaker and film-maker who has spent much of her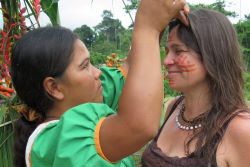 time in the Amazon sorting out environmental challenges and inspiring people all over the world. Her talk draws on her experiences in the Ecuadorian Amazon with indigenous communities and with plants in Sussex.
Tickets:£5.00 for WI members, family and friends
Booking via Eventbrite
https://www.eventbrite.co.uk/e/wsfwi-presents-how-nature-can-turn-problems-into-solutions-tickets-215192014107
Speakers Interviewing Session - Zoom
Wednesday 26th January 7pm – 9pm
Join us for another Zoom session for prospective speakers for our WSFWI List. Each speaker will give a 15 - 20 minute introduction to their talk.
Tickets:£3.00 All members welcome. (WIs may pay for 1 or 2 members from funds)
Eventbrite: https://www.eventbrite.co.uk/e/speakers-interviewing-by-zoom-evening-tickets-207218625487
Washington Science Group
Friday 28th January 2pm – Washington Village Hall
"The History of Spinal Injury Management"- John Reynard
Lt Col John Reynard is Consultant Urological Surgeon, Oxford University Hospitals NHS Foundation Trust, Honorary Consultant Urologist, The National Spinal Injuries Centre at Stoke Mandeville Hospital and Honorary Senior Lecturer in Urology, University of Oxford. He is an Army Reserve Officer with 2 Medical Brigade.
Payment on the door - no pre-booking required
Table Tennis Trophy
Wednesday 16th February 2022 10am – 3pm Fittleworth Village Hall
Homemade soup and roll available £1.50 charge. Please bring your own table tennis bat.
Large hall with appropriate COVID cleaning rules in place.
Tickets: Members £7.50 Non-members £8.50 Closing date 2nd February 2022
Eventbrite: https://www.eventbrite.co.uk/e/215199005017